This week our guest on ACES Radio Live is going to be Robert Pagliarini – Author of The Other 8 Hours.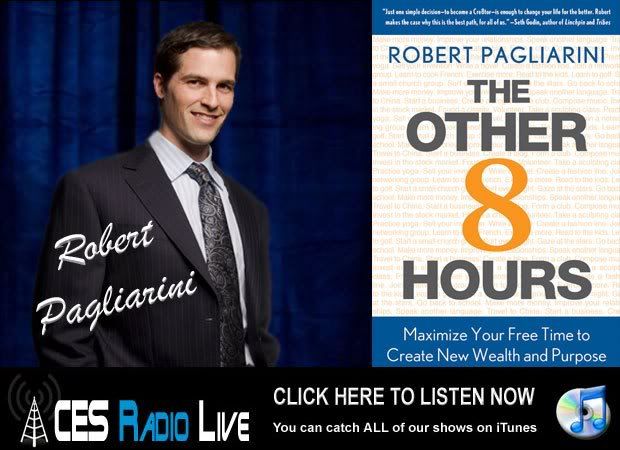 ACES Radio Live is on LIVE Every Friday Evening
Noon-1:00 PM Hawaii
3:00-4:00 PM Pacific
4:00-5:00 PM Mountain
5:00-6:00 PM Central
6:00-7:00 PM Eastern
You can also call (347) 843-4270 if you have questions regarding this show.
So, who is Robert Pagliarini…
Robert Pagliarini is a man on a mission. He is obsessed with improvement and making the most of his free time. He's also obsessed with empowering others to live life to the fullest by radically changing the way they spend their time. Robert is the founder of Richer Life Insights, a community and learning system for passionate people inspired to drive more money, motivation, and meaning in their lives. Robert is also the author of The Other 8 Hours: Maximize Your Free Time to Create New Wealth & Purpose and the No. 1 bestseller Six-Day Financial Makeover. He has appeared as an expert on 20/20, Good Morning America, Dr. Phil, ABC Morning News, and in The Wall Street Journal, Newsweek, Money Magazine, and many others. Robert is the president of Pacifica Wealth Advisors, Inc., a boutique wealth management firm specializing in sudden money recipients. He is a Certified Financial Planner and has a master's degree in financial services.
Richer Life Insights
We are building a community of passionate people who want to learn and achieve more and who want to shift their mindset to focus on making more money and living a richer life. You can participate in conversations I have with experts, celebrities, authors, and thought leaders that are laser-focused on practical ways to drive more money, motivation, and meaning into your life.
We are acutely aware of information overload. While there is certainly no shortage of information-even good information-there doesn't exist a system that you can easily plug into that provides you with easy to implement advice that can radically change your life.
What we believe…
– We don't need more information; we need actionable advice.
– We don't all have the same needs; we want to consume content when and how it is best for our lifestyle and learning style.
– We don't want a teacher; we want a mentor.
– We don't want to be overwhelmed; we want to be inspired.
Robert likes to say… "If you want to take your life and finances to the next level and want to have some fun in the process, become part of the Richer Life Insights community."
We are honored to have Robert as our guests on the show this week.
Please feel free to call in and be a part of the show if you have a question for our guest by calling the number below
(347) 843-4270
You can listen live or catch the archive of the show with this link:
CLICK HERE

To learn more about any of our other fantastic guests please feel free to contact Troy or myself directly.
Remember, success is a choice—here's to yours.
Warm Regards and God Bless,

PS If you enjoy our show, the content we provide to the industry and think what we do is of service and value to the Home Based Business Industry then we would like to ask you to Please go to That MLM Beat and vote for our blog via the link below – We Thank You in Advance for Your Support.