This week our guest on ACES Radio Live is going to be Julie Booz founder of JHB Life Styles Online Professional Resources.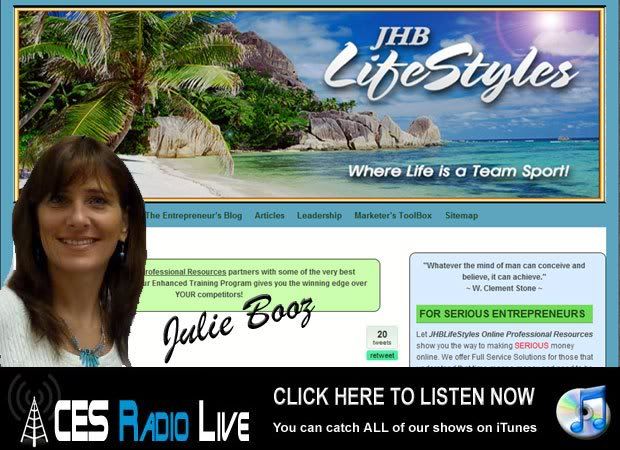 ACES Radio Live is on LIVE Every Friday Evening
Noon-1:00 PM Hawaii
3:00-4:00 PM Pacific
4:00-5:00 PM Mountain
5:00-6:00 PM Central
6:00-7:00 PM Eastern
You can also call (347) 843-4270 if you have questions regarding this show.
So, who is Julie Booz…
Julie has been honored by Strathmore's Who's Who, where acceptance Is Limited To Individuals Who Have Demonstrated Leadership & Achievement In their Occupation, Industry Or Profession; Julie Booz brings an absolute wealth of knowledge to the table. With her IT background and a deep understanding of Internet Marketing, Julie is helping Businesses and Business owners be on the FRONT END of emerging trends.
Having spent the last 10 years online, & mastering the art of internet marketing, Julie's passion is building relationships through social media marketing and in helping business owners connect with more customers. She has a proven track record for the power of sites like Twitter, Facebook, and Blogging. A true heart centered leader, Julie Booz is a woman on a mission to make the world a better place through helping business owners make the transition from traditional methods to today's internet driven markets.
Julie, having a natural aptitude for entrepreneurial-ism and personality types has built an International Business in the Wellness industry coaching hundreds of leaders on multiple continents. She has the ability to "think out of the box" and brings her high energetic passion to the business owner.
Julie has received her certification as a Microsoft Certified Professional from Computer Training.com
Julie is married, she has 2 wonderful children and operates JHB Life Styles Online Professional Resources.
We are happy to have Julie as our guests on the show this week.
Please feel free to call in and be a part of the show if you have a question for our guest by calling the number below
(347) 843-4270
You can listen live or catch the archive of the show with this link:
To learn more about any of our other fantastic guests please feel free to contact Troy or myself directly.
If you have a few free minutes please stop by my new blog at Jim Gillhouse International and feel free to leave us your comments about the New Blog CLICK HERE

We appreciate your support – Remember, success is a choice—here's to yours.
Warm Regards and God Bless,